Custom Photodome Pins are the trade name used for offset or printed pins. These pins styles are great alternatives for individuals whose designs are not enamel compatible. While photo dome are printed on vinyl, they can blend well with gold or silver plates. Pins Overnight has been manufacturing and supplying quality photodome pins for several years. As a market leader, we are glad to share with you the following things to make your experience worthwhile.
Why Invest in Custom Photodome Pins?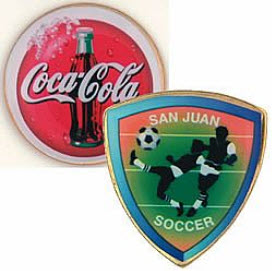 With so many styles and designs of lapel pins, you might be left wondering-what is so good about photodome pins? Here are compelling reasons that should motivate you to invest in photo dome. First off, photodome pins produce excellent results for artworks that have color gradients and color bleeds. They are also great when you don't want to implement separation of colors and text. Also, if you want high quality pins real quick then custom photodome pins are the best option.
How Much Do Custom Photodome Pins Cost?
The pricing of pins varies according to the size of individual pins and the quantity of pins. The more pins you order the lower the price per pin. Whether you are ordering .75 inch, I inch or 1.375 inch, Pins Overnight guarantees you high quality and durable pins at great pricing.
Custom Photodome Pins- Manufacturing Process
Production of photodome lapel pins is a delicate balancing which Pins Overnight has perfected. Artwork is printed on vinyl using high tech printers and then incorporated on metal pins. Thereafter, a protective acrylic dome is applied to individual pins which are then cured. Unlike epoxy, acrylic does not fade with time which makes it a great material.
Our design team will work on the image that you have, and if need be, polish it to maximize the aesthetics. We not only work with stock shapes, but our designs can be adapted to the specific need of stock shapes.
Ordering Custom Photodome Pins
Pins Overnight has simplified the process of ordering photodome pins. You only have to submit your image design or photo of your design via email. Our design team will respond within a few hours and once they review your design, they will supply you with quotes.
We encourage you to share with us your design ideas, or sketches. Our experienced team can polish your design and give the professional touch it needs to stand out. Every order of photodome lapel pins guarantees you the following things
Free color proof artwork (emailed within 24 hours)
Free setup and mold
Free unlimited colors with every lapel pin design
Free ground shipping
Quick Response and Production time
NO HIDDEN Charges
We are eager to help you get the best photodome lapel pins. No project is too small or too big, we give each project the attention it deserves. Our guarantee is nothing less than quality pins, good value for money, and customer satisfaction.Pins Overnight designs, produces, and ships your order within 48 hours.
Call us Today or Request a Free Quote for any custom photodome pins.